architecture - engineering - construction

Spring forward with basement door maintenance: after rough winter, take steps now to evaluate and tend to your entryway
April 3, 2019
After a long, wet and arduous winter, spring is a good time for homeowners to evaluate the performance of their BILCO basement entry doors. If there is evidence of rain, water, or yard debris entering the bulkhead, it is a good indication that the door needs some repair work or needs to be replaced.
Preventive and periodic maintenance in the spring and fall are good first steps for homeowners to ensure the longevity of their basement door. Just a few simple steps can help keep a door in good repair and functioning properly.
Finish maintenance is the first and most important step to maintain the condition of your basement door. Standard doors are supplied with a red oxide primer finish that requires a finish coat of paint. Check your doors regularly to see if the finish paint is scratched or chipped and touch up those areas as soon as possible. Exposed metal areas will cause rust and corrosion that will ultimately require your door to be replaced. In general, a new coat of paint may be required on the entire door every few years.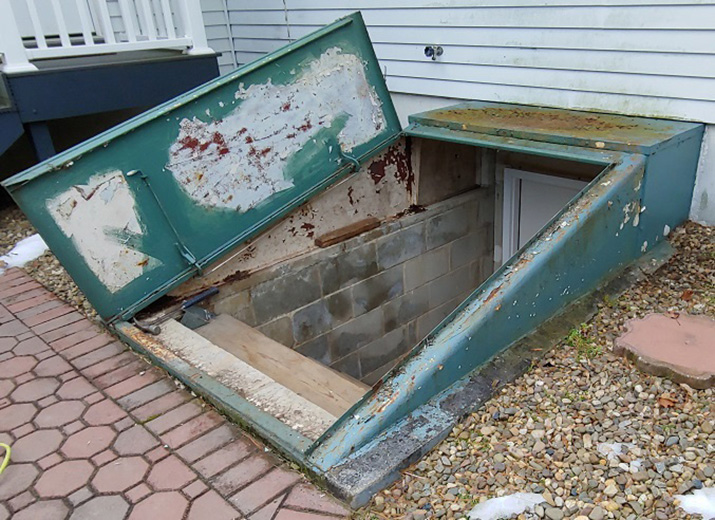 Before picture of a basement door installation by T. Wolf of New Jersey (Photos courtesy of T. Wolf)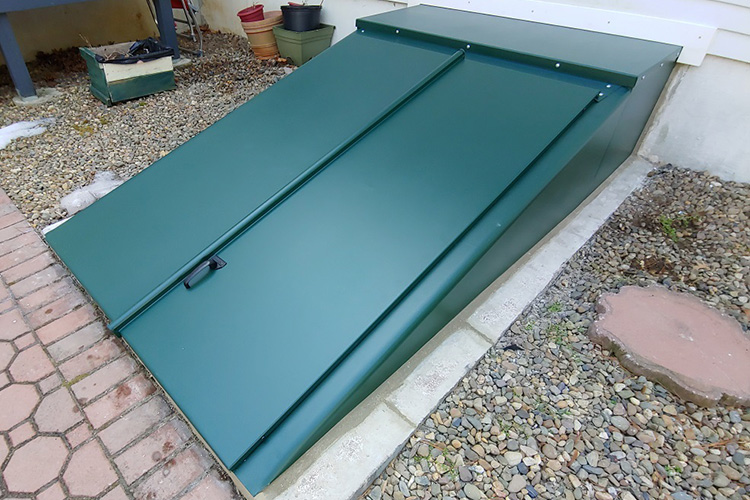 After picture of a basement door installation by T. Wolf of New Jersey (Photos courtesy of T. Wolf)
Seek out signs of moisture
Next, check the areaway under the door for signs of moisture. "At the bottom of any exterior entry stairwell, when moisture is present, the basement entry door frames, or wood partition walls, can rot out quickly from water that enters the stairwell through either the foundation walls, or the door system above," said T. Wolf, who owns and operates T. Wolf Home Improvements in Hazlet, N.J. "That can lead to considerable damage over time."
If there are signs of water in your areaway, inspect all the seams between your basement door and the concrete foundation. These seams were caulked when the door was initially installed, and the caulking material can be damaged or deteriorate over time. A fresh bead of caulk will generally solve most moisture problems.
Like any below grade basement, door areaways will tend to have a bit of natural moisture. In addition to applying new caulk to seal gaps, it is also important to open your doors frequently on nice weather days to let air circulate inside your areaway to dry things out. "I tell all my customers when it's a nice, sunny day, and they're in the backyard having fun with their kids, working on their landscape, or just enjoying the weather, that they need to open up the doors and allow the moisture to evaporate out of the stairwell,'' Wolf said. Excessive moisture can also lead to premature rust or corrosion of your basement door.
Tips for Basement Door Maintenance
There are also two general maintenance items that can extend the life of your BILCO basement door. Always make sure that the header channel, the gutter-type flange at the top of both doors, is clean of dirt and debris. Like the gutters on your home, this channel tends to fill up periodically which can cause overflow or leakage inside your basement areaway.
Like all mechanical devices, moving parts require lubrication. A few sprays of lubricant, such as WD-40, on the hinges and slide bolt locking mechanism will help keep your door in working order.
Lastly, if your door is in generally good shape but has a few minor problems, replacement parts can be ordered at www.bilco.com. Replacement handles, gas springs, and even new door leafs or side panels can be ordered online and shipped directly to your home.
Once your door is back into tip-top shape, you may want to consider a few basement door accessory items that are available from BILCO. The keyed lock allows homeowners to conveniently lock and unlock the basement door from the outside, saving that trip down into the basement
BILCO also offers a basement door weather strip kit. This specially designed kit reduces gaps in your door to block drafts, leaves, dirt, and pests from entering your basement door. It also rids homeowners of the loud slamming noise often associated with the closing of large metal basements.
Both do-it-yourself projects are easy to install and can be done in 30 minutes or less and can be purchased on www.bilco.com, Amazon, and at your local home center.
Time for a new Basement Door
If your door is beyond repair, it may simply be time for a new basement door. BILCO offers a number of models to suit virtually any basement areaway dimension. All products feature weathertight construction and engineered lift assistance for easy, one-hand operation.
Classic series steel basement doors are also offered with a factory applied powder coat paint finish in a number of standard colors. Homeowners can now skip the painting and regular finish maintenance and select a color to match their home. BILCO also offers its Ultra Series basement door, a product fabricated from high-density polyethylene that is designed to look like a wood plank door for added visual appeal.
Whether you select a Classic Series or Ultra Series door, proper installation is the key to a well performing basement door. BILCO has a network of independent installers that can provide a quotation for complete door replacement.
"The most common installation issue that I come across is where the BILCO door housing was not set onto the opening plumb, level and square,'' Wolf said. "When it's not, you can possibly distort the housing to the point that the door leaves become compromised. This leads to subsequent problems with insects, excessive moisture or water entering, premature wear, and future paint failures. Eventually, rusting will overwhelm the entire system."
For more information about residential products from The BILCO Company, contact 1-800-854-9724, or visit their website at www.bilco.com.
@TheBilcoCompany #TheBilcoCompany #basementdoors #flooraccess
Company:
Bilco
Source: https://www.bilco.com/
---
Tags:
Tree grilles and floor access covers at The Wintergarden (February 27, 2019), Floor access covers for flexible floor finish (January 30, 2019), How to Choose the Right Perforated Grille for Your Project (August 9, 2018), From west to east with Howe Green access covers (January 4, 2018), Not all access covers are created equal (November 6, 2017), Keeping the castle cosy with Howe Green access covers (September 11, 2017), Custom Ornamental Bronze Grilles (August 4, 2017), Blackened Steel for Architectural Design (July 19, 2017), Howe Green 'raises the bar' at former olympic site (July 18, 2017), Swedish hospital 'takes a chance' on Howe Green (June 21, 2017)
Taking it public with CableRail cable railing (March 20, 2019), Implementing Routine Fire-Risk Assessments in the Workplace (December 28, 2018), New safety standard for shades keeps kids safe (December 17, 2018), Why Choose Glass Deck Railing? (November 26, 2018), Four Elements of Security Entrance Safety that Directly Impact Your ROI (November 7, 2018), Round stainless steel railing systems (November 5, 2018), Accuride slides a safe partner for Kaso Oy (October 24, 2018), National Fire Protection Month (October 10, 2018), Traditional + Contemporary = Transitional Design (October 4, 2018), 'Megadeck' transforms outdated home into vacation retreat (August 29, 2018)
Uses and costs for security window film vs. bulletproof glass (March 6, 2019), 9 Reasons Organizations Select Security Revolving Doors to Protect their Most Valuable Assets (March 1, 2019), 3 Reasons Mantrap Portals Provide the Highest Level of Security Compliance for an Entry (January 14, 2019), How security entrances can help protect data centers by controlling physical access (December 14, 2018), The all-hazards approach to ballistic barriers and physical security (December 7, 2018), Four Elements of Security Entrance Safety that Directly Impact Your ROI (November 7, 2018), Energy saving glazing options cut energy costs (October 31, 2018), What industries should utilize bullet-resistant glass? (August 28, 2018), Wood door solutions for high-risk areas (August 24, 2018), 2018 Trend: Custom Corporate Security Systems (August 20, 2018)