architecture - engineering - construction

The Daylighting Difference: Biophilic Design
October 4, 2019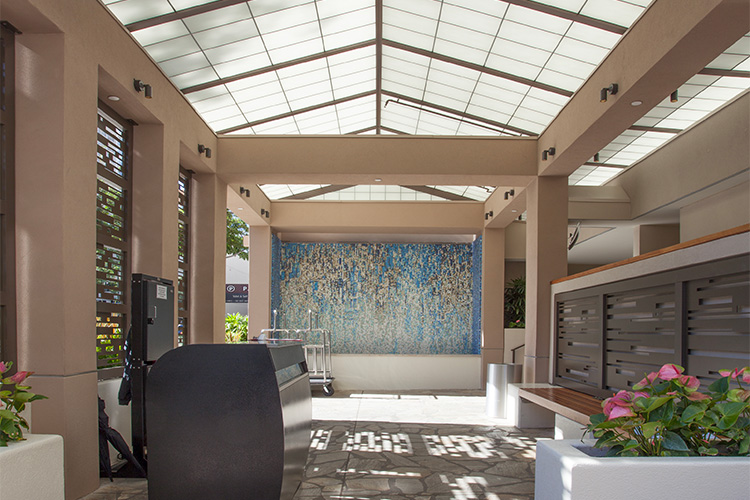 In an urban age when most waking hours are spent indoors, Biophilic design strives to satisfy the innate human tendency to hunt for and associate with the natural ingredients for human health and survival. People have evolved to instinctively associate with the natural features and processes that, though no longer as relevant to survival, contribute to their livelihood and well-being – and few things were and continue to be as integral to human health as the sun. The sun a source of both light and warmth, we have become biologically encoded to seek out its rays; and more than that, our body also relies on the sun to stimulate Vitamin D production and regulate the body's daily rhythms.
But despite this biological drive to soak up more sun, people are spending more time under artificial lighting. This has had negative consequences on peoples' mental health, sleep quality, job performance, physical health, and much more. Indoor lifestyles have made it is unlikely that people will find more time during the work week to get outside, especially with daylight hours now dwindling, but biophilic design and daylighting can help bring natural light into peoples' lives where they need it most.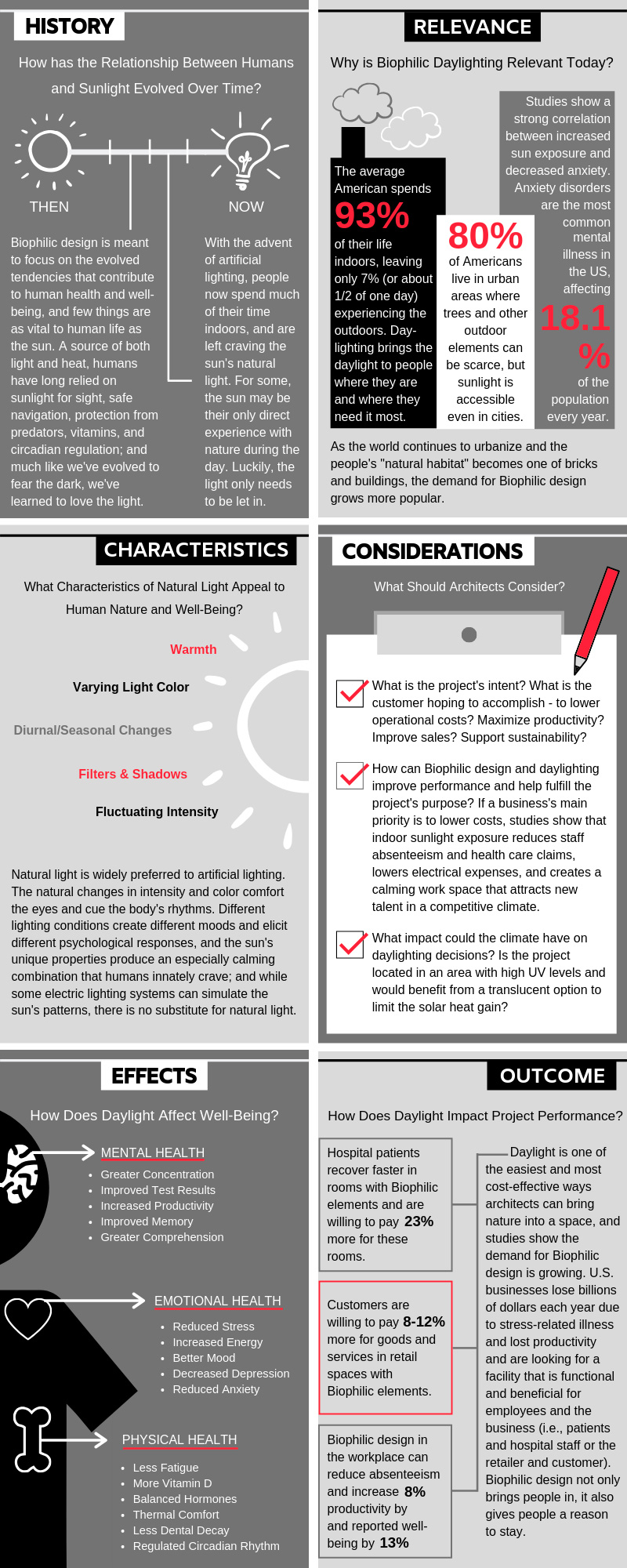 Sources:
https://www.terrapinbrightgreen.com/reports/14-patterns/
https://www.metropolismag.com/architecture/what-is-and-is-not-biophilic-design/
https://www.oliverheath.com/biophilic-design-connecting-nature-improve-health-well/
https://www.architectmagazine.com/technology/7-ways-to-enhance-indoor-environments-with-biophilic-design_o
https://www.bdcnetwork.com/blog/biophilic-design-what-it-why-it-matters-and-how-do-we-use-it
https://living-future.org/wp-content/uploads/2019/01/18-0605_Biophilic-Design-Guidebook.pdf
https://www.washingtonpost.com/business/2018/12/18/americans-say-theres-not-much-appeal-big-city-living-why-do-so-many-us-live-there/
@majorindustries #majorindustries #daylighting #biophilic
Company: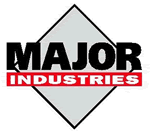 Major Industries Inc.
Product: Auburn® Engineered Glass, Polycarbonate Multi-wall and Acrylic Skylights
Of: Tayler Feuling
Source: https://majorskylights.com/the-daylighting-difference/the-daylighting-difference-biophilic-design
---
Tags:
Is glass going out of style? (September 6, 2019), The daylighting difference: student health & learning (September 4, 2019), Daylighting Systems Project Spotlight: Carver Public School (August 5, 2019), Incorporating the metallic look into your daylighting strategy (March 25, 2019), Privacy and daylighting in the same window (February 25, 2019), Visual Blog: Kalwall in the Retail/Commercial Market (February 8, 2019), Skylights: bringing out the best in art (November 16, 2018), 3 Reasons to consider solar heat gain in architecture (October 19, 2018), Meeting modern trends in multifamily construction (October 17, 2018), Halloween spotlight: daylighting horror stories - sorting fact from fiction (October 3, 2018)
Techstyle® Ceilings: redefining what's possible (September 18, 2019), Floor access doors for finished flooring (July 30, 2019), What to Look for to Find the Best Poolside Planters and Plants (July 26, 2019), How Laser Cutting Works (July 25, 2019), Package volume increase means greater need for automated lockers (July 23, 2019), Acoustical design for open spaces with creative alternatives to suspended ceilings (July 22, 2019), Custom bollards for function and form (July 17, 2019), Giving new life to historic buildings leads to happier, healthier cities (June 17, 2019), 9 FAQ's about stretch forming services (June 3, 2019), Reflector™ Enhancer floors featuring gunmetal and titanium (May 31, 2019)
Dark Sky Compliance (September 30, 2019), Pathway Illuminance: Hard-Wired vs. Solar Bollard Light Fixtures (September 9, 2019), Create custom fixtures with Dos Curve LED modules (August 21, 2019), Lighting integration made easy: pre-cut panels for trimless downlights (December 31, 2018), 'Tis the Season (December 12, 2018), An alternative to union metal light poles: resin-based lampposts (November 2, 2018), Landscape lighting solutions: 7 signs your business should upgrade lighting systems (September 13, 2018), Design Spotlight: Controlling Summer Sun (August 3, 2018), Using controls to personalize shading systems (July 23, 2018), Commercial landscape lighting (July 20, 2018)
The daylighting difference: student health & learning (September 4, 2019), Case study: Fast Tracking the Canadian Grand Prix (June 7, 2019), 5 Considerations when installing glass skylights (May 13, 2019), Visual Blog: Kalwall in the Retail/Commercial Market (February 8, 2019), Design Spotlight: Places of Worship (December 4, 2018), Skylights: bringing out the best in art (November 16, 2018), Halloween spotlight: daylighting horror stories - sorting fact from fiction (October 3, 2018), Design spotlight: enhancing the grid (June 3, 2018), Daylight & Learning (April 20, 2018), Kalwall in the Manufacturing Market (April 10, 2018)