architecture - engineering - construction

Roof hatches, smoke vents and fall protection
August 28, 2019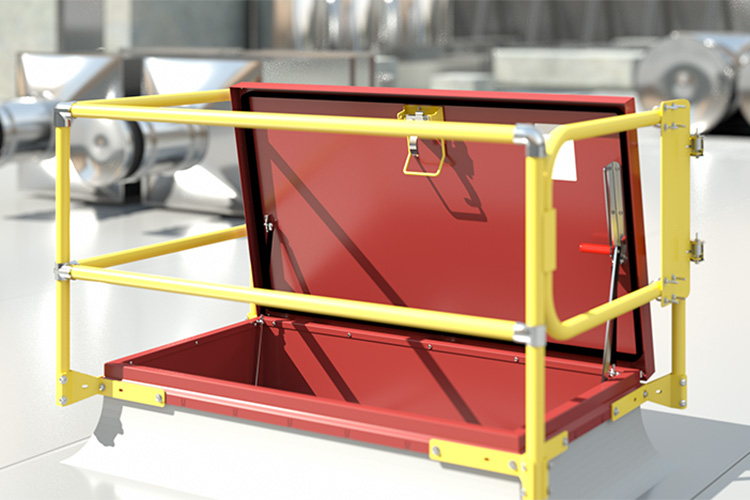 Roof Hatches
Babcock-Davis Roof Hatches provide safe and convenient access to commercial building roof areas using interior ladders and stairs. For ultimate corrosion resistance and outstanding exterior durability, Babcock-Davis provides powder coat finish. Babcock-Davis' complete line of Roof Hatch and Safety products meet building codes, fire and life safety requirements. We build our services around your specified needs.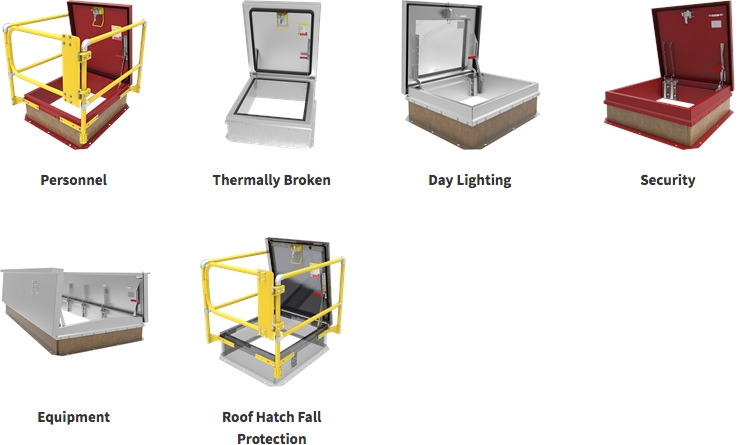 Smoke Vents
Babcock-Davis offers a complete line of smoke vents designed to meet all fire and life safety building codes. Roof top smoke vents automatically open to release heat, smoke, and noxious fumes in the event of a fire emergency, as required by International Building Code. (IBC 910 Heat & Smoke Vents, IBC 410 Stages & Platforms, IBC 3004 Hoistway Vents). Contact our expert sales department for guidance in selecting smoke vents on your next project.

Fall Protection
Babcock-Davis offers OSHA compliant fall protection safety products including safety railings, safety posts, safety nets, safety grating and safety bars. These products complement the roof hatch, smoke vent and floor door product lines.

#babcockdavis #accessdoors #roofhatches #smokevents #fallprotection
Company:

Babcock-Davis
Source: https://www.babcockdavis.com/products/roof-hatches
---
Tags:
Floor access doors for finished flooring (July 30, 2019), Spring forward with basement door maintenance: after rough winter, take steps now to evaluate and tend to your entryway (April 3, 2019), Tree grilles and floor access covers at The Wintergarden (February 27, 2019), Floor access covers for flexible floor finish (January 30, 2019), How to Choose the Right Perforated Grille for Your Project (August 9, 2018), From west to east with Howe Green access covers (January 4, 2018), Not all access covers are created equal (November 6, 2017), Keeping the castle cosy with Howe Green access covers (September 11, 2017), Custom Ornamental Bronze Grilles (August 4, 2017), Blackened Steel for Architectural Design (July 19, 2017)
Tectum E & Tectum E-N Acoustical Roof Deck (August 26, 2019), Achieve Sustainability Goals with Hollowcore Roof and Floor Systems (July 5, 2019), SafetyRail 2000 Roof Fall Protection Guardrail System (August 11, 2018), Roof top safety (May 3, 2018), Daylight & Learning (April 20, 2018), Skylight guarding with SRC - Skylight Screens (October 10, 2017), Tectum III & Tectum IIIP Acoustical Roof Deck (September 7, 2017), Architectural Series Roof Guardrail System (August 8, 2017), Durable skylight finishes by Linetec (July 4, 2017), Starlings And The Grain/Agriculture Industry (June 16, 2017)
Feeney Project Showcase: CableRail in Trex Transcends railing (August 16, 2019), 8 Reasons why cities are installing bollards in high traffic areas - it's not just counter-terrorism (August 12, 2019), 5 Revolving door safety tips to avoid injury with public users (July 29, 2019), Custom bollards for function and form (July 17, 2019), Black Aluminum Cable Railing (July 10, 2019), Bollard installation onto uneven surfaces (June 14, 2019), The importance of a fire safety plan in high occupancy buildings (June 6, 2019), T-Flex® – A Non-Lead Shielding Alternative (May 6, 2019), Transform ordinary spaces into stunning spaces with railing infill options (April 29, 2019), Aluminium security windows from Armortex (April 17, 2019)