architecture - engineering - construction

Daylighting Application Spotlight: Transportation Facilities
March 8, 2021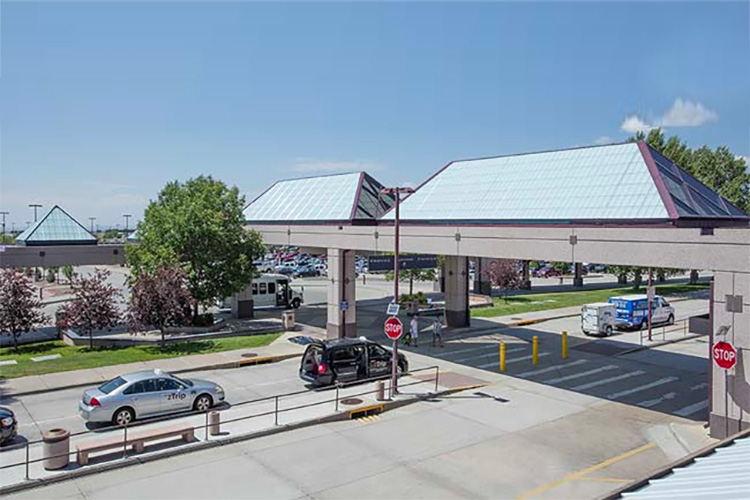 From the welcoming environment that natural light creates to the privacy afforded by the use of translucent panel systems, nearly every type of transportation-related facility can benefit from access to daylight. Everything from transfer facilities and train stations to maintenance depots and airplane hangars can take advantage of the benefits of a well designed skylight, canopy or translucent wall system.
Entryways
Welcome travellers with a bright and inviting canopy that also serves as protection from the elements. With curved configurations, unique grid patterns, and numerous color options available, it's a versatile way to make a design statement.
Atriums
"Wow" occupants with a beautiful Auburn® glass skylight and views of the sky, or provide them with the soft, diffuse light of a Guardian 275® translucent panel system. Either way, adding natural light to large open areas makes them feel more comfortable and inviting.
Airport Concourses and Hangars
Translucent wall systems in a clerestory configuration are a great way to bring light into large, open spaces while still providing glare and hot-spot control. Translucent systems are also lightweight and offer built-in privacy, making them a good solution to integrate into operable hangar doors.
Outdoor Spaces / Stations
Shield riders with a translucent canopy that providing them with a bright and welcoming space to wait for the next train or bus while blocking out everything from harsh sunlight to rain and snow.
These are just a few ideas of how daylighting can benefit your next project. For more inspiration, check out our image gallery, full of great projects from across North America, or check out our downloadable Inspiration Book filled with project images HERE.
@majorindustries #majorindustries #daylighting #canopy #atrium #skylight #translucentwall
Company: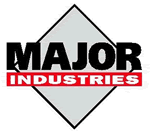 Major Industries Inc.
Product: Auburn® Quick Ship™ Single Slope Glass Skylights
Source: https://majorskylights.com/skylight-solutions/auburn/
---
Tags:
Visual Blog: Kalwall in the Education Market (June 17, 2020), Visual Blog: Kalwall in the Retail/Commercial Market (February 8, 2019), Entrances & entryways - making an impact (March 2, 2018), Building orientation & daylighting (February 9, 2018), SUNGLAZE™ solid polycarbonate standing seam canopy system (January 31, 2018), Translucent panel canopies allow for great design versatility (January 26, 2018)
Daylighting Benefits: Give Your Building's Occupants a Boost (February 10, 2021), The Daylighting Difference: Designing for Cold Climates (January 6, 2021), The Daylighting Difference: Seasonal Affective Disorder (December 4, 2020), Translucent Daylighting in Athletic Facilities: The Benefits (November 11, 2020), The Daylighting Difference: Energy Efficient Lighting (October 14, 2020), Designing for Resilience: Hurricane Protection (September 14, 2020), The Best of Both Worlds: Glass & Translucent Panels (August 4, 2020), Visual Blog: Kalwall in the Education Market (June 17, 2020), Designing Bird-Friendly Facades with Translucent Panel Systems (June 3, 2020), The Daylighting Difference: Natural Light and Workplace Productivity (May 4, 2020)
Glass door security options: developing an all-glass bulletproof door (February 15, 2021), The Daylighting Difference: Designing for Cold Climates (January 6, 2021), The Best of Both Worlds: Glass & Translucent Panels (August 4, 2020), Visual Blog: Kalwall in the Education Market (June 17, 2020), Glass house with load-bearing timber curtainwalls (October 25, 2019), The daylighting difference: student health & learning (September 4, 2019), Benefits of Modular Office Wall Systems (August 23, 2019), Design Spotlight: Places of Worship (December 4, 2018), 7 Fun ideas using glass to jazz up your outdoor patio or deck this summer (July 27, 2018), Design spotlight: enhancing the grid (June 3, 2018)
Thermal performance and energy savings with polycarbonate glazing systems (July 16, 2018)
The Daylighting Difference: Designing for Cold Climates (January 6, 2021), The Daylighting Difference: Seasonal Affective Disorder (December 4, 2020), The Daylighting Difference: Energy Efficient Lighting (October 14, 2020), The Best of Both Worlds: Glass & Translucent Panels (August 4, 2020), The Daylighting Difference: Natural Light and Workplace Productivity (May 4, 2020), The Daylighting Difference: Sustainability (April 13, 2020), 5 Considerations When Installing Glass Skylights (March 16, 2020), Creative Option: Removable Skylights (January 13, 2020), The Daylighting Difference: Biophilic Design (October 4, 2019), The daylighting difference: student health & learning (September 4, 2019)